---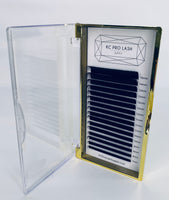 Sale
These luxurious premium lashes are deep black, Semi matte, with no blue hue. The strip is perfect for every fanning method. The lashes fan easily without sticking to each other and pick up is a dream. 
Green sticky strip on white background makes the lashes easy to see while you are working  
16 lines per tray. 
The Short mix tray is a mix of 7-9 so you always have the right size in the smaller lengths but don't have to buy whole trays of these lashes that artists typically use less of. What do you think of that? 
2 lines of 7mm
6 lines of 8mm
8 lines of 9mm