---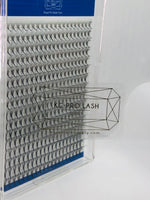 Sale
Royal Promade Lashes are hand made, heat bonded premades. They are perfectly made with a tiny base for beautiful, comfortable, and seamless bonds. 


0.07 5D Available in C and D curls with 330 fans per tray! 


Since fans are closest to handmade fans, the pick up is a little different. You MUST gently pick these fans up from the base And set them back down to avoid the fan being disrupted. 

Kim's pro tips. 
1: A threaded or from the underneath attachment is ideal for these fans. 
2: Use enough glue (not too much) to support the fan.
3: A good rule of thumb for all volume lashing hold isolation for 1 second per #of lashes in the fan before moving on to reduce the change of stickies. 
4: Always choose the correct length and Dimension of fan to ensure the health of the natural lash from your volume or Premade class training. In most cases 10D is appropriate for healthy long and strong Telogen lashes.