---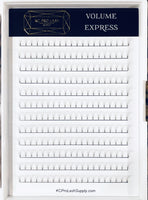 Sale
The original Volume Express premades
 These single size trays have 240 fans per tray. These are so easy to apply and look incredible. Try them with any of our adhesives for a beautiful set! 
Try these Premade fans with one of our great adhesives. You'll fall in love with our glue! 
Domino Clear Bond
Vesper Ultra Bond
M- Mega Bond
So soft and fluffy, you won't believe you didn't make them yourself! 
5D 0.07 diameter. Available in C and D 
These have a narrow base, dark finish, and great long lasting curl. First these lashes were heat bonded then set with a tiny amount of clear flexible adhesive to make them secure.  They are very easy to remove from the strip.
120 fans per line on a removable strip. 
Medium width for maximum versatility. Quickly create mega volume , volume, or hybrid sets and fills. Use these to create your work or when you need to get more coverage when you are short time, or do an entire Volume Express set in a fraction of the time. These are also great for classic artists looking to see if your clients would like the look of Volume or Hybrid lashes but aren't trained to hand make fans.
Here are some ways to use them:
Place them like a classic lash
Thread them to nestle the base and create more of a "wrap" type bond
Place a .10 classic or flat lash then nestle a fan for great retention and instant hybrid.
Working with premade and promade fans can be tricky, but once you get the hang of it, you may never go back! 
*Never apply lashes to the skin and only use professional adhesive in the manner in which it intended  
Tips: 
Isolation is key! Get all other lashes out of the way. You can use blue sensitive tape to help clear your working area. 
Pick up the fan with a volume tweezer, I like a boot or crane. Get a good grip making sure you have even tension then lift up toward the ceiling with gentle even pressure. Once you've removed the fan, you may want to set it down on a silicone mat or other surface to re-orient the lash before dipping. Practice makes perfect! 
Chose telogen lashes first. These lashes are full grown and will stay stable and not grow out much slowing your set to look fuller longer as well as make hitching the bases more avoidable. 
Attach .5 to 1 mm from the lash line (never touching the skin. For best fit attach from bottom of the lash. 
You don't have to do 100% coverage unless you want a mega volume look. 40-60 fans create a medium volume look for most eyes. 20-40 per eye with classics Creates a nice hybrid. 
Ensure you are respecting the integrity of the natural lash. These fans are not designed for baby (Anagen)  or young teenage (Catagen) lashes. 
Find the groove. Each fan has a perfect place to nestle up to the natural lash. Try to find this spot and snuggle up. 
Use the right amount of adhesive. Practice this. Use too little and it won't last. Use too much and it won't adhere or may create stickies. Know your adhesive. I personally like working with a 1-2 sec dry time adhesive so it dries fast but I have a little time to work for perfect placement. 
place the adhesive where you intend to attach the fan. Do a little scoop for underside attachment give a little dip on the back for top attachment. Tilt and dip the side for for side attachment. Work quickly but carefully so your adhesive bonds well to the lash. 
Work in layers or alternate eye to eye to ensure the adhesive has time to dry before working next to the lash you just placed.  
Add short fans to the bottom layer to create that eyeliner look using sensitive tape to pull back lashes and expose the bottom layer (ensure the eye stays completely closed) 
Check for stickies! 
Instruct your clients to brush them from the top down and to be gentle. These do have a thin base but depending on their natural lash and your placement, they could "hitch" the base and cause premature fan loss. 
Reccomend a 2 week fill as the retention is similar to classic with most application techniques. When they come back, check the retention and customize their fill time from there. 
Be careful around heat. Due to the special manufacturing process of these lashes, some people may experience the fans losing curl or slight lightening of color depending on their chemistry, cleanser, cleansing routine, and lifestyle factors. Not everyone is an ideal candidate but for those that are, this is a dream for them and the artist! 
Recommend a gentle cleanser made for lash extensions.