---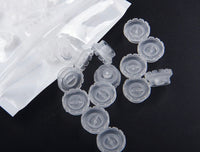 Your little volume helper! Helps create narrow bases on volume fans and keep adhesive fresher, longer. 


Tips: place on double sided tape, a 3m sticky dot, or other sticky surface or get the palette specially made for them! I like to use this on my glue ring attached with a a small square of 3m sticky square. 


Pick up a tiny amount then slowly, gently,  touch one side then the other and then set your fan into the V and pull your fan though. Re- dip if necessary. it takes a little practice but once you get the hang of it, all your fans can be great!