---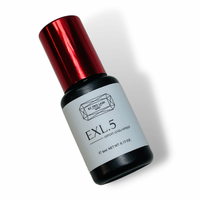 Sale
Half Second Adhesive 
For Professional Use Only
Are you an advanced Artist? 
Pincher? 
Pro-maker/ Crystalizer? 
Are you super Speedy? 
This adhesive be your match! 

Ideal Temperature/ Humidity for .5 performance is 68* and 50-60% humidity. *speed at 40-50% humidity about 1 second, speed at 30-40% humidity about 1-1.5 seconds
Prepare adhesive by mixing side to side with the pin in the top. Mix 15-30 seconds each time you refresh.
Always store adhesive upright in an airtight container in a very cool, dark place. If you store in a esthetics cooler (37*5 F), bring to room temp 1-2 hours before using.
Ingredients: Ethyl Cyanoacrylate, PMMA, Carbon Black.
Storage: keep Adhesive in a cool dry/ airtight place with fresh silica. If storing in a refrigerator, the adhesive must be removed 2 hours before use to allow it to come to normal working temperature.

Do not freeze adhesive. Recommended replacement when adhesive becomes thick / stringy  average is 4 weeks but for busier artists this can be sooner and if the top is not kept clean and neat- may be much sooner.  
A vac Jar is recommended. Do not store with anything other than other adhesives.

Discard adhesive after 4 weeks of use or before if it becomes think, stringy, or the smell becomes strong.  This is a sign you've probably waited too long to replace. Busier techs may need to replace their adhesive sooner due to opening and closing which exposes adhesive to air (moisture) each time. 


It is never recommended to use adhesive under 30% humidity as it may not cure properly.
For Professional use only by licensed and trained individuals