---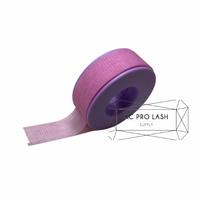 Your favorite Silicone Tape but in 1/2 inch size and in pink!!
This is the good stuff! Latex free soft silicone tape. 4 yards of soft silicone blue tape that is easy to tear, gentle on skin, gentle on lashes. 
Lash Artists everywhere are raving about this gentle tape. Perfect for taping down lower lashes, taping back lashes to get to the bottom layers, and using to manipulate the lid to get to those inner corners. It releases hair and skin beautifully and it is a favorite of artists that work in layers. 


Even though this is a sensitive tape, we recommend de-tacking it especially when using it to tape back lashes. You will still need to use caution when removing- be kind to all skin and lashes. 


This product is for professional use only and we are not responsible for its use or misuse. Thank you!